TS Designs boasts the Garden of Eat'n, a stretch of earth dedicated to fruits and vegetables grown by the lovely people of this sustainable t-shirt company. This concept is obviously contagious because we're not the only ones getting back in touch with Mother Nature. Take a look at http://www.employergardens.com/. This forum shares news from the gardens of major corporations like Google and PepsiCo, and even First Lady Michelle Obama's White House vegetable patch. As in the Garden of Eat'n, employees of the featured companies are given the opportunity to reap what they are sewing: growth of community, access to deliciously nutritious foods, and a few extra minutes in the sweet sunshine every day.
The Employer Sponsored Gardens blog states its belief in "Working hands. Active bodies. Expanding minds. Change in the workplace." The reinvention of our food system has recently prompted nationwide discourse on critical issues, including escalating health care costs, obesity beginning in early childhood, and community development. The state of the economy has companies rethinking affordable employee benefits and practical ways to give back to the community. A company garden meets all of these needs. All you need is a small plot of dirt, some seeds, shovels, water, sunshine, and a little bit of TLC, and you have yourself a garden. Join the movement. Plant a garden at your place of work, and eat your veggies. Your mom will be so proud of you. Peace Love & T-shirts, Natalie
Read More
Sheryl from Twisted Limb Paperworks converted some of our organic cotton scraps to paper. A combination of manila folder folders and the t-shirt scraps were used to create cards. The T-shirt scraps were in the Hollander beater for seven hours before they were broken down enough. Usually, her recycled paper is in this beater for only an hour. Twisted Limb Paperworks sustainably produces handmade 100% recycled paper. Below is a photo of a mold for the paper pulp.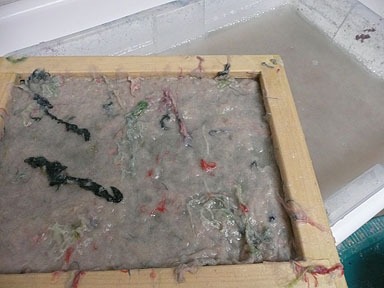 The
Downtown Burlington co-op grocery
took several hundred pounds of scraps and packed them into the open side of a rolling partition wall, then covered the side with chicken wire to hold the scraps in. The wall is now sound absorbent, drastically improving the acoustic quality of the building.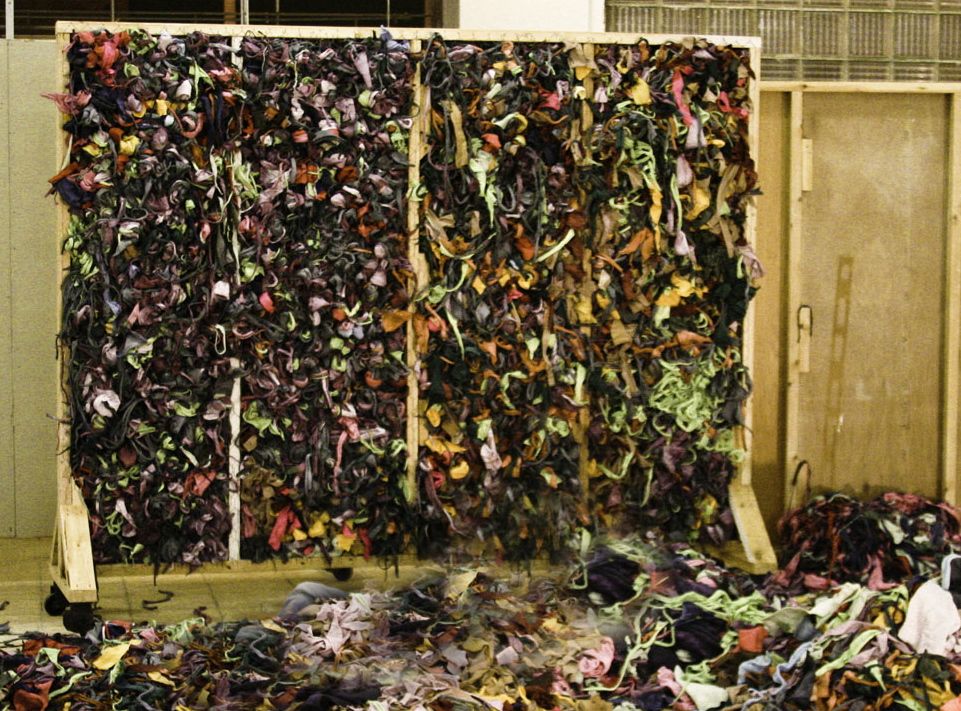 Read More