MSA, Financial Manager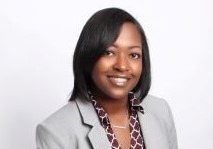 Jasmine Simpson, financial manager at TS Design, Inc., has a passion for numbers and a heart to serve others. Her distinct professionalism and personable demeanor set her apart from others in the accounting profession.
Jasmine earned her Bachelor of Science degree in Accounting from The University of North Carolina at Greensboro (UNCG) where she graduated magna cum laude. A year later, she also obtained a Master of Science in Accountancy (MSA) degree from UNCG. After completing her studies, Jasmine launched her career in accounting by entering the Corporate sector. Throughout her successful career she acquired progressive accounting and finance experience working for both Fortune 500 companies and smaller private companies. Jasmine's knowledge and experience include manufacturing, service, and financial services industries.
Jasmine's passion for numbers and a desire to help others led to her next venture as an entrepreneur. She founded Good Steward Financial Company, LLC, an accounting services provider to nonprofit organizations and small businesses. She is passionate about the world of Accounting and Finance and takes pleasure in sharing her accounting knowledge with business owners all over the US.
Outside of work, Jasmine enjoys spending her free time with family and friends, thinking of ways to serve others, and being an active member at her church.
Contact Jasmine: jasmine@goodstewardfinancialco.com