The Best and Most Sustainable T-Shirt in the World.
Natural Fibers & Earth Friendly Printing.
Grown and Made in the USA.

We manufacture 4 unique sustainable brands. With the best quality and eco-friendly mission, it's the best t-shirt you will ever wear.

First apparel B Corporation (since 2008) verified to voluntarily meet high standards of transparency and accountability.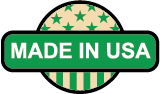 Reshoring
Every step in our supply chain is domestic and travels up to 95% less than the average shirt!

Trackable supply chain starting with the farmer who grew the cotton via WhereYourClothing.com

Passionate about keeping microplastics out of our ecosystem, we focus only on natural materials such as cotton, hemp, & wool and create small batch shirts at Solid State Clothing

Natural Dyes
We create small batch natural dyes and utilize local & responsibly sourced plants from our own back yard.

Water-Based Inks & Dyes
We use eco-friendly inks & dyes with no harmful chemicals.