The TS Designs Garment Dyeing Facility hosts over 11 dye machines ready to tackle your brand's dye needs.
In addition to offering dyeing for production over 60 pounds, we offer color-matching, softening and competitive U.S. pricing.
We do all of this in downtown Burlington, North Carolina, just down the road from TS Designs' headquarters. We operate the last garment dye facility in the south and  took over the space about 6 years ago. Located in an old textile facility in downtown Burlington, the facility was originally built to knit and dye socks.
Now we dye everything from wool berets for the military to organic cotton bandannas for indie designers.
Contact TS Designs' President Eric Henry (yes, he's THAT accessible), at eric@tsdesigns.com or give him a ring at 336.675.6266
Color Matching
● Flat fee
● Up to 3 matching attempts (tweaking the formula as necessary)
● All trials will be sent and customer will select one to proceed
● Exact match not guaranteed
● We prefer to match to a uncoated PMS (Pantone Matching System) or swatch
Order Parameters
● Minimum production weight of 60 lbs.
● Standard 2 week turnaround time
Product Requirements
● Softener used in fabric finishing should be non-cationic & non-silicon based
● Garments sewn with cotton thread (unless a contrasting thread is desired)
● Product samples required before order acceptance to assess dyeability
Pricing
Pricing is still being developed, but will be given both on a per-pound basis (for dyeing) and a per-piece basis (for handling). Prices will vary depending on color selected and how much handling/packaging is required.
Equipment Specifications
● 9 production and 2 sample paddle dye tubs with the following capacities operating at a 17:1 liquor ratio:
○ 7.5 lbs (x2)
○ 61 lbs
○ 78 lbs
○ 79 lbs
○ 87 lbs
○ 102 lbs
○ 124 lbs
○ 142 lbs
○ 164 lbs (x2)
● 2 extractors
● 4 commercial gas dryers
● 100 horsepower natural gas fired boiler
Stock Reactive Garment Dye Colors
Color can vary based on dye load size, cotton type, and fabric finish
Color accuracy is dependant on your device's display, and may appear different once printed on fabric. Consider ordering a color swatch to see the best representation of our color options.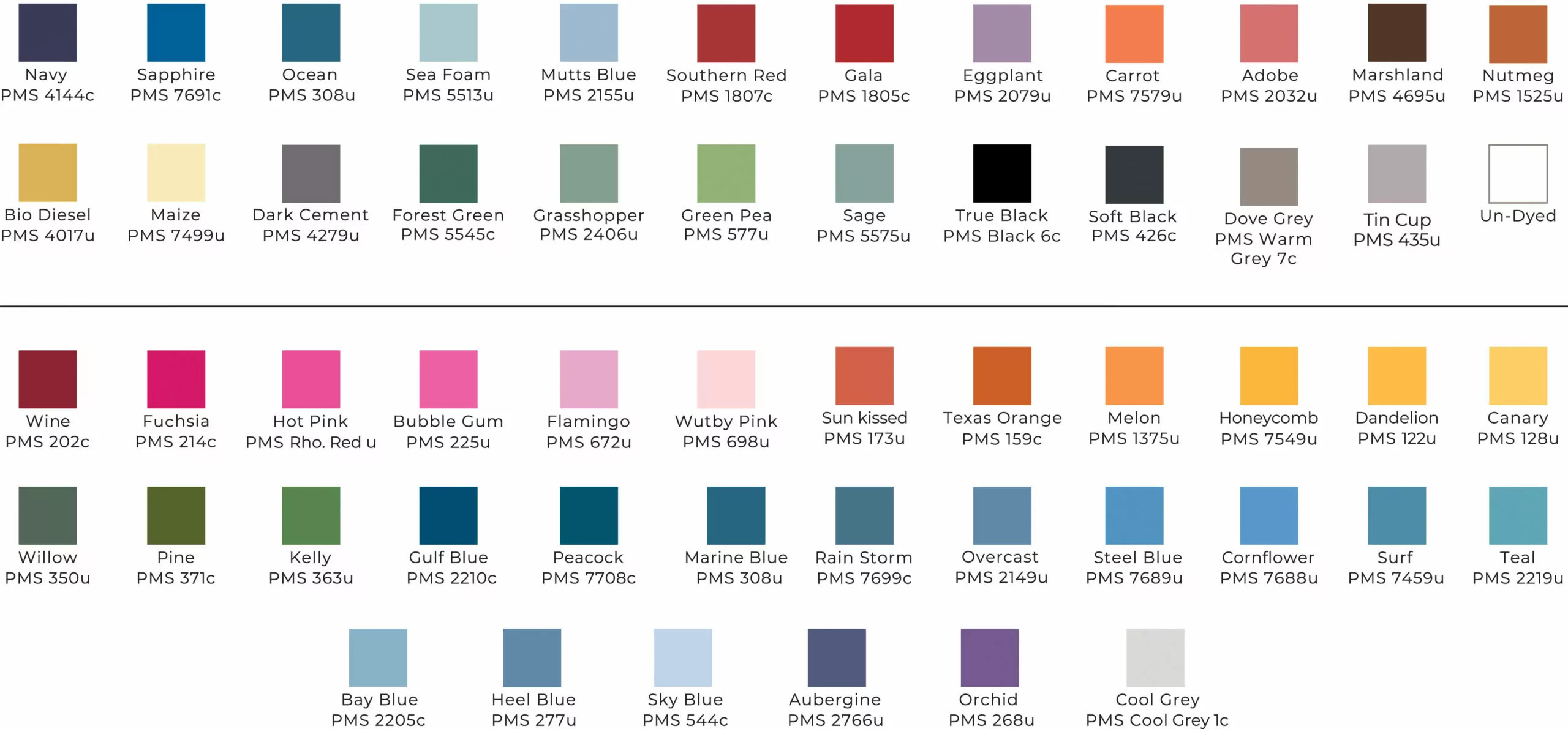 413 Tucker Street, Burlington NC. 27215
5,000 square feet with loading dock