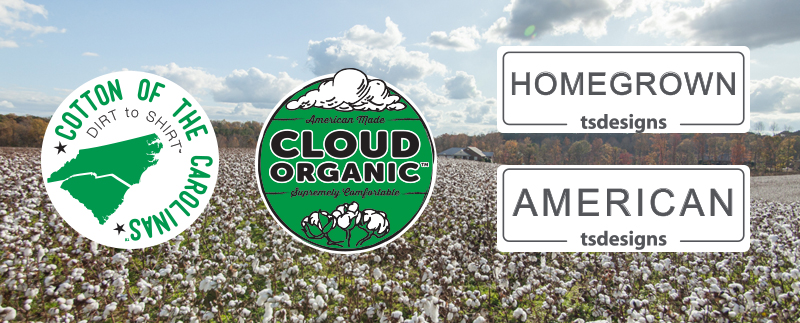 Need pricing? Simply fill in the requested information and upload your design below. We do our best to reply with a quote or follow up with any questions within two business days.
New! Our Direct to Garment (DTG) printing capabilities are now available for smaller runs.
Compare Our Eco-Friendly Printing Options

Eco-Friendly Print Options
Minimum Order Size
T-Shirt Colors Available
Minimum
Cost per
Shirt*
TS Designs Brands
Maximum Graphic Colors
Max Printing Area and Locations
Turnaround Time



REHANCE Screen Printing


100

White
(no Garment
Dye)


$13
• Cotton of the Carolinas

• Homegrown

• Cloud Organic

• American


6+ Resist

Spot Colors


15" x 15"
Front
Back
Sleeves


2 weeks for production
sample (required on orders over 300) 3-5 weeks once approved

200
All Garment Dye Colors

$16


Direct to Garment Printing (DTG)

12
True Black
or White
(in stock)

$20
• Cotton of the Carolinas

• American


Unlimited

14" x 16"
Front
Back
Sleeves

3-5 Business Days!
24
All Garment Dye Colors
$24
Same as
REHANCE
2-3 Weeks
*Fees for setup and per additional print locations not included
Enter your info below to get started!
Still have questions? Schedule a quick call with Eric Henry, our President and CEO.
Schedule a Meeting
Keep up with our sustainable initiatives with our monthly newsletter.
Subscribe