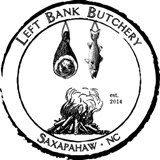 The TS Designs mission revolves around the concept of community.  We love working with businesses across the country, but we strive to partner with those right here in our own backyard.  The market of Saxapahaw has been a friend to TS Designs. We have worked with many of the businesses there, and we have the same perspective and view on what it means to be part of your community, and to give back to your community.
We celebrate the successes of these shops, so we're sharing this piece from the Burlington Times-News  on Left Bank Butchery. It's an excellent story really highlights the niche market that Left Bank has built for itself, and their commitment to excellence.  In a more subtle way, it also speaks to the partnerships we've formed in Alamance County.  In the story photo, butcher Alec Stinson is wearing his Cotton of the Carolinas Saxapahaw General Store t-shirt, which means that in this one photo about one fantastic community resource, three local businesses are represented: Left Bank Butchery, Saxapahaw General Store, and TS Designs.
Now that's community.
Click here to read the Burlington Times-News story about Left Bank Butchery.