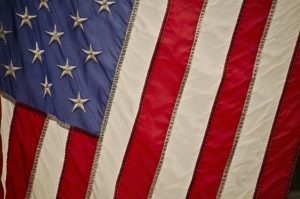 Community engagement became a top priority after the North American Free Trade Agreement nearly destroyed TS Designs in 1994. That's when CEO Eric Henry realized there was more to a business than just the "bottom line." By the late 90s, we'd shifted our focus to include our people more and started measuring success with a triple-bottom-line model: people, planet and profit. 
The recent United States Mexico Canada Agreement is an updated trade deal. Henry says, "While we live in a global economy and negotiating fair trade deals like the United States Mexico Canada Agreement that replaces NAFTA are important, our focus at TS Designs is working domestically, making sure our supply chain is transparent, and making sure everyone in that supply is represented. I like driving to see the folks in our supply chain instead of trying to save a few dollars with overseas suppliers and greatly increasing our carbon footprint flying around the world to see them." 
The new focus reflects our belief that a community cannot be successful unless everyone in that community has an opportunity to participate in it, and we're striving to build connections and see everyone have a chance to make positive contributions to our city, county, and state.
Community Engagement Provides Solutions
Around here, we like to say that no one person has all the answers, but the answers lie within our community. Partnering with the Alamance County Chamber of Commerce, pioneering the North Carolina Business Council, and keeping connections to Elon University strong has given us a solid network to rely on, bounce ideas off, and support. 
Together we've created a community that's stronger as a result. The community engagement has offered solutions none of us would have gotten to alone. 
Local Economies Thrive with Strong Community Participation
Two economies impact us every day. The global economy brings us the consistency of two-day shipping from Amazon or a $5 meal deal at one of the chain restaurants along I-85. The local economy connects us to a neighbor, farmer, or pottery maker. 
The challenges we face and need to address are that these two economies are usually just compared on the lowest price and not the overall impact that "local" has on communities. But buying local means more opportunities for local residents in their own backyards. 
A few years back, local economy author and consultant Michael Shuman shared results of a study on local purchasing. The study, conducted in metro Cleveland, showed that if consumers shifted just 25% of their food purchases to local sources, they would create 27,000 new jobs, generate almost $1 billion in wages, and increase tax revenues by $250 million.
Local economies thrive with strong engagement from the community around them. 
Community Engagement Gives Everyone a Chance
TS Designs had been like most typical businesses a few years ago. On our employment application we'd told folks not to apply if they had a felony record. But Phil Bowers of Sustainable Alamance helped change our perspective. Our CEO had worked with Phil when he was at Burlington Chemical Company pre-NAFTA. 
When Phil left to start Sustainable Alamance, his mission was clear: "To build a stronger and more sustainable community by identifying and mentoring men and women in poverty, with an emphasis on former offenders in Alamance County who have a strong desire for self-sufficiency." 
A belief in community participation means giving everyone a chance. Those coming out of jail and back to Alamance County are people of our community too, and if we don't get them an opportunity to contribute to it, they'll most likely end up back in jail. 
TS Designs is built on the idea that the wealth of happiness that comes in connecting and building community is an invaluable resource. Giving everyone in our community the chance to participate in it will allow us all to reach the best possible outcomes.