If you ask Eric Henry, it's all about bringing community together! And boy, did we ever succeed at this year's t-shirt sale!
We're the lucky ones.
We know it – and we treasure it.
This morning is an example of how fostering connections in our community brings benefits to us all!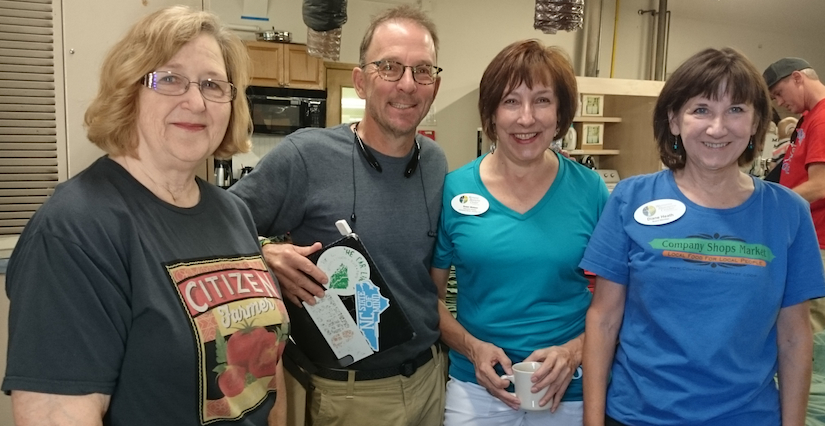 First of all, much thanks to the Women's Resource Center of Alamance County for partnering with us for our back to school sale. Their team helped with organizing and promoting ahead of the event – and during. We can't say THANK YOU enough to all the volunteers who gave their best to make this event a success!
A portion of proceeds from today's sale will be donated back to the organization – and we couldn't be happier. There are so many great programs available to our community because of the effort provided by the WRC Alamance team. Learn more from their website. And you can also listen to Susan Watson outline just a few of the great things they've got going on in this video.
Second, let's talk about the awesome coffee provided by NC-local Counter Culture Coffee. Their team arrived at the onset of the event and set up both hot and iced coffee for our community. We couldn't agree more with Carolyn who said, "Coffee was delish – added to the shopping pleasure."
Third, much appreciation to the community – all of you – who came out to support local business. At TS Designs, we're working to build a sustainable company by simultaneously looking after people, the planet and profits. It's called a Triple Bottom Line approach. And it wouldn't be possible without those of you who order custom wholesale packages and our retail tees – and tees from our Breakroom Boutique (our overruns and not-quite-perfect tees).
There's a murmur about another BIG T-Shirt SALE before the end of the year – in time for holiday gift-giving. Stay in touch with us on social media for announcements as we get the event details put together.