Imagine 13 million tons of clothes and shoes in a big pile in your backyard (if you have a really big backyard, of course.). Thirteen million times two thousand — that's a lot of zeroes!
Did you know that's the amount of clothing and shoes the EPA estimates ended up in US landfills in 2018? Now, to be fair, we don't know how many of those articles of clothing were t-shirts, but even if it were just one or two, we think that's too many.
So, we thought we'd give you some ideas on what to do with the t-shirts you've stopped wearing for whatever reason. Maybe they've faded or shrunk. Maybe you've accumulated more than you know what to do with and you'd just like to clean out your closet.
Before you toss those old shirts, try these ideas for a festive holiday season with upcycled t-shirt gifts, ornaments, gift wrap, and more!
Recycleart.org is all about reusing, recycling, and reducing consumption. For these cute baskets, you just need three t-shirts that you'll turn into yarn for crocheting.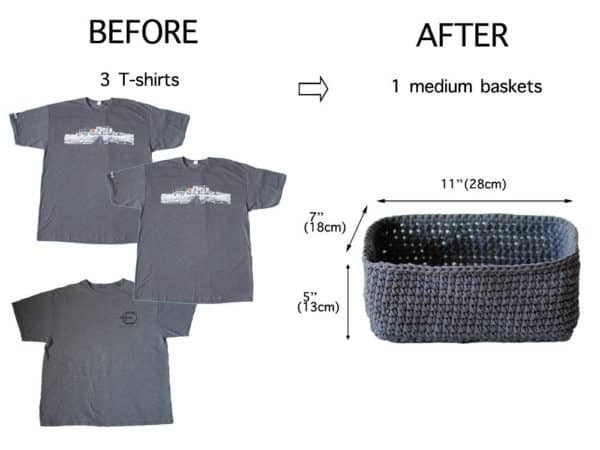 Keep the t-shirt yarn handy for snowflake Christmas ornaments. Adrianne, over at Happy Hour Projects, shows us how to turn it into snowflake ornaments with just a little help from some fabric stiffener and scissors.
Ever thought of wrapping gifts with tees? This is such a fun way to upcycle your old t-shirts. See how Stephanie at Swoodson Says creates furoshiki and turns gifts into works of art. Try it yourself and share your photos with us!
Want to spruce those gifts up even more? Add a bow with these fun upcycled t-shirt pompoms. One tee, some scissors, and a little cardboard will do the trick.
And if you need a tote to carry all the gifts to your family and friends, try these no-sew tote bags. Super simple and super cute.
Brighten up your door with an upcycled t-shirt wreath. A little more time consuming than some of the other ideas, this one's still pretty simple, and you can feel good about rescuing your old tees from a lackluster landfill end-of-life.
Not sure you have enough old tees to try these crafty ideas? Our grab bag is a perfect mix of sustainable t-shirts. Grab yours today and upcycle this holiday season!