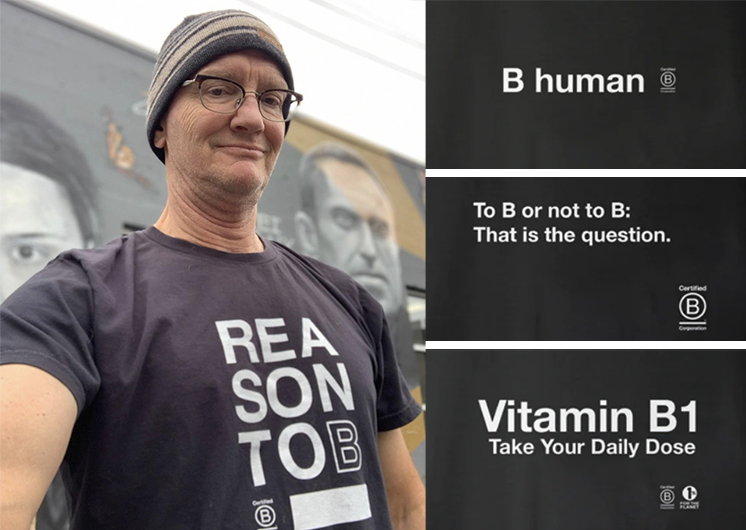 Our October Customer Spotlight goes to a very special B Corp! In the realm of branding and social responsibility, this company stands out as a trailblazer and a true inspiration – Oliver Russell. Founded by Russ Stoddard in 1991, Oliver Russell started out as a branding agency with a focus on social responsibility. When Russ Stoddard established Oliver Russell over three decades ago, the concept of a branding agency rooted in social responsibility was a novel idea. However, Russ recognized the immense potential of this value proposition, and he was determined to make it a reality. His vision was not just about running a successful business but about making a positive impact on the world. 
Becoming the First B Corp in Idaho
In 2011, Oliver Russell achieved a remarkable milestone by becoming the first Certified B Corporation (B Corp) in Idaho. The journey to becoming a B Corp started when Russ learned about the movement through his son's teacher. Upon delving deeper into the concept, he realized that B Corps perfectly aligned with his personal and business values.
The "Reason to B" Movement
Russ Stoddard's dedication to social responsibility didn't stop at Oliver Russell. He passionately advocates for the B Corp movement and seeks opportunities to collaborate with other B Corps. This dedication led to the creation of "Reason to B," a platform aimed at fostering collaboration and innovation among socially responsible businesses.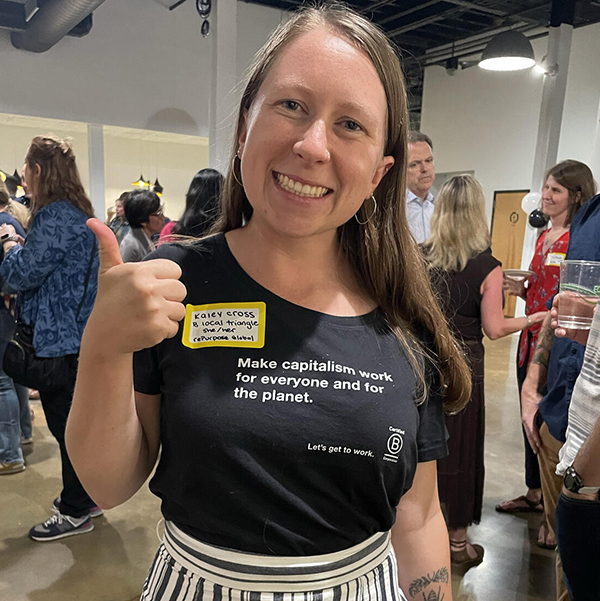 Inspiration from TS Designs
Russ's dedication to sustainability also extends to his wardrobe. He was inspired by a t-shirt he acquired that bore the name "TS Designs." Intrigued by the concept of sustainable fashion and local supply chains, Russ began to explore e-commerce possibilities. He recognized the profound impact that supporting brands like TS Designs could have on American manufacturing and local communities.
We have started a retail "Print-on-Demand" program with Oliver Russell. When you place an order at BCorpWear.com, it comes straight to TS Designs. We print on one of our 100% USA Made t-shirts, and ship directly to the customer.
Sustainability as a Way of Life
For Russ, sustainability is not just a buzzword; it's a way of life. Living in Idaho, where the great outdoors is a part of daily existence, they witness the real-world effects of sustainable practices and climate change. Russ personally embraces sustainability by biking to work, promoting recycling, adopting energy-efficient practices, and practicing composting.
Additionally, Russ and his family are deeply involved in regenerative agriculture. His wife, a florist, ensures that all their floral arrangements are created using organic produce with a no-till approach. This commitment to sustainability extends to every aspect of their personal and business lives.
Exploring Russ's Insights: "Godspeed" Blog
If you're eager to delve deeper into Russ Stoddard's thoughts and insights on social responsibility, sustainability, and the B Corp movement, you're in luck. Russ has recently launched his own blog, "Godspeed," serves as a platform for sharing knowledge, experiences, and ideas that can inspire and empower individuals and businesses to make a positive impact on the world.
A Love for People and Planet
In conclusion, Oliver Russell and its founder, Russ Stoddard, epitomize the power of social responsibility and sustainability in business. Their journey from pioneering social responsibility in branding to becoming Idaho's first B Corp is a testament to the positive change that businesses can bring to the world.
Russ's dedication to "Reason to B," sustainability, and his new blog, "Godspeed," underscores the importance of aligning values with actions. Oliver Russell's story is a beacon of hope and inspiration for businesses seeking to make a difference in the world while pursuing success. We proudly shine our October Customer Spotlight on Oliver Russell and look forward to seeing the continued impact of their remarkable journey.
TS Designs manufactures the highest quality printed t-shirts in a domestic, transparent, and trackable supply chain. We work with brands who want to provide their customers with responsibly made clothing that positively impacts people and the planet.
Learn more about Direct to Garment Printing at TS Designs
Talk to CEO, Eric Henry, about Print-on-Demand with your online shop.