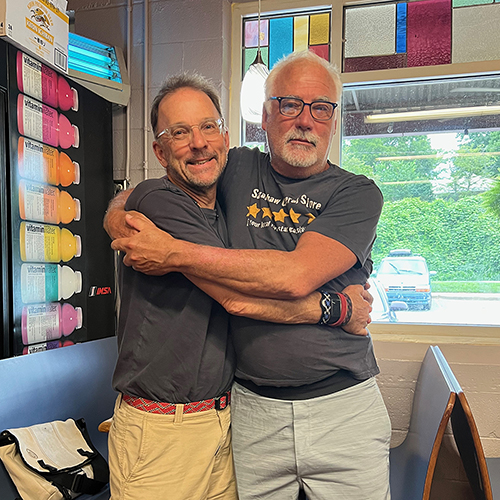 Our August "Customer Spotlight" is awarded to the one and only
Saxapahaw General Store
, also known as 'Your local five-star gas station." Opened in 2008 by Jeff Barney and Cameron Ratliff, this general store has become a staple location in North Carolina. Jeff Barney started his career as a butcher in Flint, Michigan. Although it was just a job at the time, it would turn out to be a huge part of his future. He slowly began learning about retail production and culinary arts. In 1997, Barney moved to Durham, North Carolina, continuing his career working as a butcher and cook at Whole Foods.
Anthroposophy
Later on, Jeff became a regular at the Pittsboro General Store. It was during this time, he found out the Chatham Marketplace Co-Op was opening. Interested, Barney quickly became a founding manager and began to learn about the consciousness of food and the impact food has on the land and the economy. Barney describes these beliefs using anthroposophy, which is the awareness of one's humanity and influence through economics, human rights, and social and cultural commons. While working at the co-op, Barney formed relationships with the farmers supplying their ingredients.
From Farmer to Food to Farmer
"I never turned back after that. It became [more than a] generalized social consciousness because there's a farmer sitting in front of me. I'm serving their food… and the seriousness and joy of providing food and serving that farmer is a closed loop. It is the attractiveness of this threefold social order."
Jeff hired his wife, Cameron Ratliff away from law school to become a baker, and in 2008, they opened the Saxapahaw General Store. The idea was to have a place to serve food and baked goods in the place where those ingredients are supplied, while also being able to service all types of people. "We wanted the natty light buyer to rub shoulders with the kombucha buyer… and we started to see something really special unfold."
They put up a sign outside that said "Bring us your produce and eggs." Gradually, their suppliers flipped from mostly commercial to mostly local.
Jeff and Cameron started off by serving breakfast, lunch, and brunch on Sunday. A year later, in 2009, they promoted their first limited dinner menu. It was the perfect time as the Paperhand Puppet show was put on at Forest Theatre, they were able to market it as "dinner and a show."
While they expected an average turnout, they ended up with a more than full house. So full in fact that guests had to make impromptu tables and chairs out of bread and milk crates. Amongst the crowd was RJ Dobs, a now local artist who had been visiting from New York. At the end of the night, Dobs stood up in the middle of the restaurant and began applauding with the rest of the mass following. This is when Dobs declared that the food was even better than restaurants in New York and he felt it was a five-star experience. The following day as Jeff is working on preparing for their second dinner, he sees Dobs outside the window plumbing a line. Continuing to work, Barney looked up occasionally, to see one, then two, then three stars carved out by Dobs. When he looked out the window for the last time, Dobs was gone, and five stars remained carved out.
Your Local Five-Star Gas Station
Jeff had formed a lifelong relationship with TS Designs president, Eric Henry when Eric and his wife, Lisa became regulars at the Chatham Co-Op. When Barney opened the General Store, Eric told him they need to sell t-shirts. Jeff thought, "What? This is a gas station in the middle of nowhere, nobody is gonna want t-shirts." But after Eric saw those five stars, he coined the iconic slogan, "Your local five-star gas station." TS Designs has been supplying their shirts ever since then.
Within his career, Jeff's greatest accomplishment is seeing his team of employees achieve a sense of responsibility, joy, creativity, and making every day possible. Saxapahaw General Store has grown into an institution in North Carolina. After being recognized by the New York Times and evolving into its own culture Jeff expresses "[The business] has out-grown me in a respect."
Sharing Values
When asked about the impact TS Designs has on him and the general store, he states, "TS Designs is interwoven into our story because of our friendship and business relationship. The shirts are great, people love to have them, they wear great, and they never lose their quality, and that's what people want, they can feel it when they wear it. Eric's support as an individual, as a prominent figure in Alamance and Chatham County, and his influence and integrity, are unparalleled. His story of changing his business model to not only match the times but to match his conscious has given us the confidence to do what we do."
Sharing the same values and beliefs of sustainability has created a huge bond between Saxpawhaw General Store and TS Designs. Jeff Barney believes "Sustainability is the stabilizer for a culture or organization. Growth without a sustainable and maintaining approach looks like exploitation. Innovation and creativity are not possible without sustainability. Sustainability is just the beginning."
---
TS Designs has set out to make the highest quality and most sustainable t-shirts on the planet. We work with brands who want to provide their customers with responsibly made clothing that's easy on the environment.