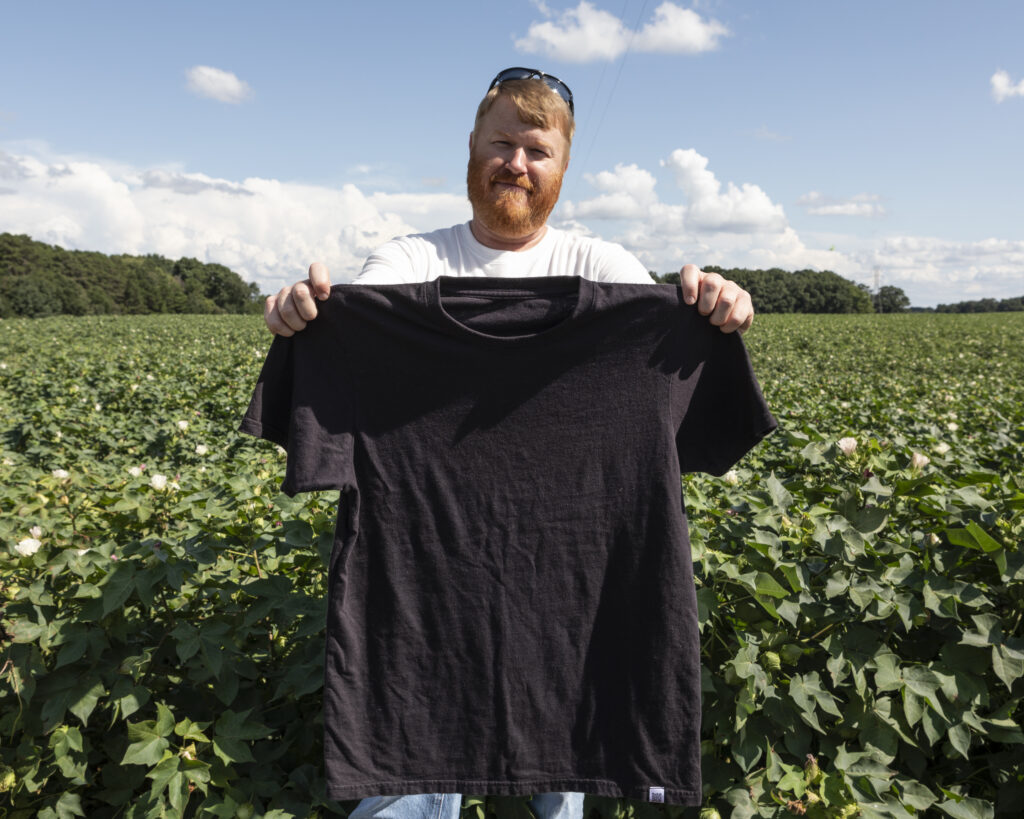 People. Planet. Profit. The Triple Bottom Line has been our vision for years now. But like every business that's faced unusual challenges in the last year, it hasn't always been easy. TS Designs President Eric Henry says it's been like juggling water.
We're excited that our focus on domestic sourcing and manufacturing gives us better communication within our supply chain. The flip side is our options are sometimes more limited.
We're proud of the "dirt to shirt" supply chain we've built so we're not just dependent on the next company in the supply chain to deliver our materials. On the other hand, it presents challenges of its own.
Here are just a few of those challenges:
Our cotton farmer waited for a part for his million-dollar tractor while John Deere was just coming back from a strike.
Our typical UPS delivery at 11 AM Monday-Friday didn't always have the package we needed or come in the time we expected it.
A supplier shut down for 10 days due to a COVID outbreak within the company.
We shut down twice due to COVID issues on our own staff. In one week, we had three breakthrough cases.
So, 2021 was like juggling water, but I never let the challenges take me off our mission to manufacture the best tees based on our Triple Bottom Line vision. TS Designs started the year off with just four folks and no vaccine. Now fully vaccinated with most boosted, we're back to full employment and hiring.

– TS Designs President Eric Henry
Celebrating the Wins of 2021
Let's take a look back at 2021 and celebrate our accomplishments:
The 10,000 Pounds of Cotton Project
Our 10,000 Pounds of Cotton shirts shipped. This past spring, we committed to doubling our purchase of cotton from NC farmer Andrew Burleson to 20,000 pounds. The 10k Project helped us establish Solid State Clothing, our retail brand, as our platform to introduce new ideas and processes directly to consumers.
Plant-Based Garment Dyed T-shirts
With the guidance of our staff members Courtney Lockemer and Sarah Malas, we launched our first plant-based, garment dyed tees with Solid State Clothing. We also did our first tie-dyed t-shirts for LC King, one of our favorite retailers of USA handmade workwear, streetwear, and mens style.
Commodity Pricing in the Cotton Industry
In September 2021, we published our second white paper, "Is Commodity Pricing the Best Model We Can Give Cotton Farmers? A Background Paper for Buyers and Brands." It addresses the broken commodity agriculture market and proposes ways the apparel industry can do better.
Supply Chain Tracking
We relaunched Where Your Clothing, a site where consumers can track the supply chain of their shirt. Where Your Clothing lets you find out exactly where your clothing was grown and made. It's a key part of our commitment to radical transparency in the making of our clothing.
Even Better Quality
We continue to improve the quality of our patterns and construction. It's the little details that make a big difference when you're on a People and Planet mission to make the most sustainable tees around.
R&D for a Hemp/Cotton Blend T-Shirt
We launched our first experiment in manufacturing a t-shirt from U.S.-grown hemp and cotton. We weren't able to achieve the right fiber quality, but we learned a whole lot that we're applying to our R&D in 2022.
How You Can Expect the Triple Bottom Line to Lead Us in 2022
In 2022, we're excited to be doing R&D into making clothing from recycled textiles. We're working with Material Return, a textile recycling company in Morganton, NC, to use their new equipment to do small batch yarn and fabric development.
For the New Year, we did a major spruce-up of both our main production facility. We acquired several new dye tubs, which will expand both our sampling and production capabilities.
We're moving forward! And we're staying true to our Triple Bottom Line vision. Taking the values we learned from NAFTA and manufacturing in a domestic, transparent and connected supply chain, we're ready to grow and continue to rebuild the domestic apparel industry.