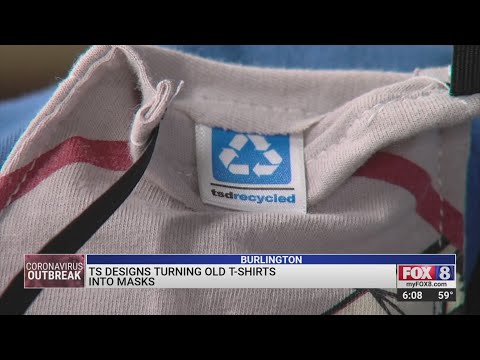 TS Designs On Fox 8 News: "As the state starts to reopen and more people start heading out face coverings will be key. Mayors across the Piedmont Triad are encouraging people to keep wearing them and some cities are giving them out for free.
"It looks like face masks are going to be a part of our wardrobe for a while," said Eric Henry, president and CEO of TS Designs.
On a normal day TS Designs in Burlington would be preparing bulk orders of T-shirts. These days, shirts are being used for masks.
The company is using defective or irregular T-shirts that have piled up over the years.
"A hole in the shirt, a leak in the print. But less than 2 percent is what we factor into our costs," Henry said.
A single irregular shirt can make between three and eight masks depending on the size of the shirt.
Business really slowed down during this health crisis so Henry created this solution to make up for missed bulk orders.
"We have literally lost hundreds of thousands of dollars in business," Henry said.
The mask sales started last weekend.
"We had like over 500 orders for masks," said Lydia Paylor, operations coordinator.
Henry teamed up with Trotters Sewing in Asheboro. TS Designs provides the shirts and Trotters cuts and sews them together.
"This is going to be a product that can work well but can be washed and reused," Henry said.
The company went from selling 250 masks a week to 250 a day.
"I'm not saying that it is going to replace all that business, but it is something that our community needs. It supports jobs in our community," Henry said.
Henry had to furlough most of his employees but since the mask idea took off two of them have returned to work.
Next week they hope to roll out masks for kids.
The masks are $13 each or you can get five for $49. Shop our face coverings here.