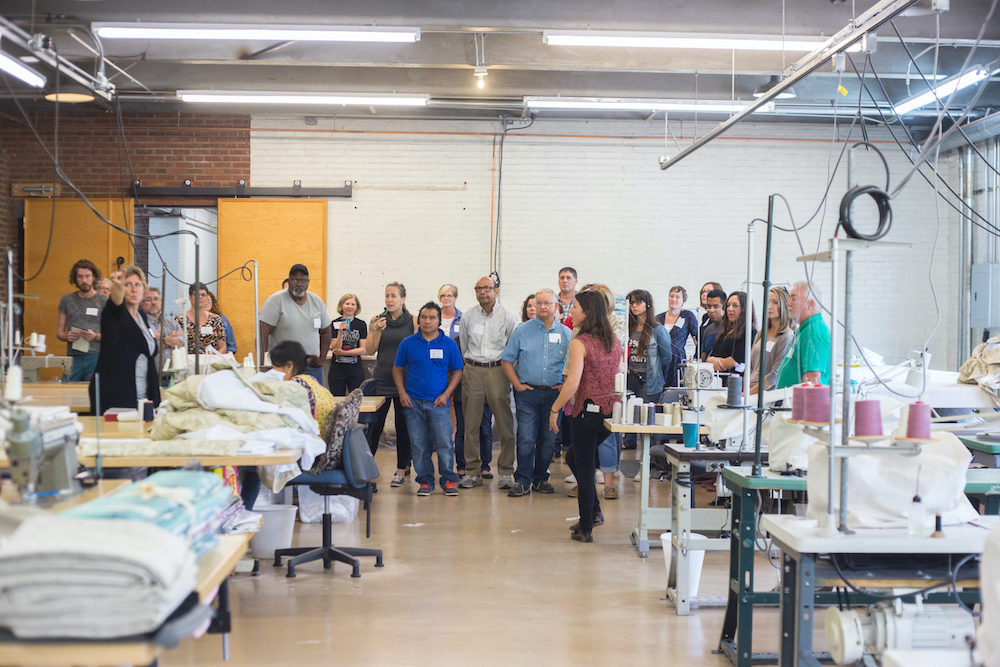 Could cooperative fiber supply chains sow resilience during life-altering events like a pandemic? Fibershed writes in their article Benefiting Climate & Communities: How Clothing Cooperatives Could Grow Equitable Regional Economies how cooperative structures like the Carolina Textile District provide an inspirational example of the type of regional networks that could grow and flourish throughout the country.
"After working in the fashion industry in New York City and Chicago, Libby returned to North Carolina in the midst of the 2008 financial crisis with a desire to support the textile industry and preserve the skills and culture of sewing. She met with other textile leaders like Molly Hemstreet, who founded the cooperatively-owned cut-and-sew facility Opportunity Threads, Sarah Chester from a local economic development agency, and Dan St. Louis from the Manufacturing Solutions Center. Together, they started mapping their region's textile ecosystem to see how they could preserve the industry.
Together, Hemstreet, Chester, and St. Louis joined other leaders in the region to form the Carolina Textile District (CTD), an LLC governed by its independent manufacturer members, which include cut-and-sew facilities and screen-printing shops. Within that framework, they created the Industrial Commons, a 501c3 non-profit working "to provide resources and support to firms and networks in a way that improves livelihoods and roots wealth in communities."
As the Industrial Commons describes, "We are leaders from the factory floor. Using our experience we solve problems by building out solutions in manufacturing clusters that address business resiliency, worker agency and environmental issues. We are creating an inclusive economy rooted in community and dignity. Our approach is unique because we build on the assets of our region. We bring workers and manufacturers together to find triple-bottom line solutions to entrenched manufacturing issues."
Initially, the CTD supported its members by centralizing and managing customer relationships, enabling each manufacturer to focus on optimizing production. Over time, additional services have blossomed based on mutual support from other value-aligned manufacturing organizations.
In the past, the textile industry in the region was highly secretive and siloed. Now, members in the CTD gather twice a year, tour each others' factories, and work together toward common goals. Each manufacturer brings their own wealth of knowledge and experiences, and the framework facilitates the sharing of those resources."
We at TS Designs are proud to be part of this supply chains network!
Read the full article (which you absolutely should) here